Trekking shoe Resole & Repair
We provide trekking shoe service. Here is a partial list of the common repairs we can do for you: full and partial resoles, replacing of the rand, eyelets, seam stitching, heel lining. Service and replacement of trekking soles is complex due to the variety of models, types of soles and their use. Therefore, we always try to do the highest level of quality of the repair in order to be closest to the original functionality of the shoes. In addition, we are also an authorized service of La Sportiva, Meindl, Hanwag and Vibram brands.
HOW TO PROCEED WHEN SENDING TREKKING SHOES FOR REPAIR?
Put clean and dry shoes to the box. (We do not return the original packaging – we

do not

have enough storage place.)

Please fill in the completed order form: Order form for the repair of trekking shoes.
Please mark in the form the material to be repaired, the method of repair – sole, rand…
Send the package directly to our contact address – RESTDAY, Napajedelská 226, Otrokovice 76502, Czech Republic
Those, who will be sending their shoes from outside EU, please contact us by Email before.

BASIC  TYPES OF TREKKING SHOES
shoes with glued soles

shoes with injected soles

shoes with rand

shoe without rand
TURNAROUND TIME:
Our current returning time is about 7 weeks.

MATERIALS WE USE:
VIBRAM soles

VIBRAM components

SHIPPING AND PAYMENT:
After we receive your payment for the repair to our account we will send your shoes to your address. Expect the postage costs depending on weight and post tariffs to the country of sender. There is possibility of custom duties.
Warranty:
We provide a guarantee for our services according to the Commercial Code.
Explanations

Sole

the rubber part you walk on

Rand

rubber around the shoe

Upper

upper part of the shoe, mostly made of leather or fabric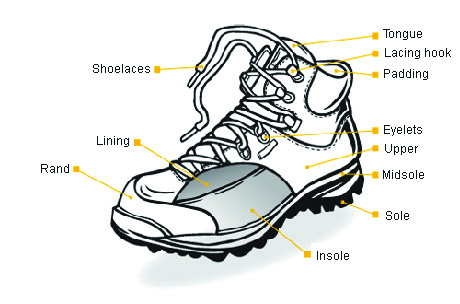 Price list for services

with VAT
Packaging
for free
Disinfection of shoes
3 €
Price list for trekking shoes repairs – (prices per pair) *

New sole:
with VAT
Vibram (Sole)

69 €
Vibram (Sole and Rand)
75 €
Vibram (Sole for crampons)
69 €
Vibram (Sole for crampons and Rand)
75 €
Meindl, HanWag (Original sole)
73 €
Meindl, HanWag (Original sole and Rand)
79 €
La Sportiva Nepal, Trango (Original sole)
79 €
La Sportiva Nepal, Trango (Sole and Rand)
89 €